Builds 1
Build Rate: 2.58 % - Win Rate: 62.11 %
1

8

9

11

2

13

14

16

3

4

5

7

6

12

17

+250 Health

10

+10 Agility

+90 Whirling Axes Damage

15

+3 Max Fervor Stacks

Battle Trance Strong Dispels

25

-6s Whirling Axes Cooldown

10

+250 Health

10

+10 Agility

+90 Whirling Axes Damage

15

+3 Max Fervor Stacks

Battle Trance Strong Dispels

25

-6s Whirling Axes Cooldown

15

+250 Health

10

+10 Agility

+90 Whirling Axes Damage

15

+3 Max Fervor Stacks

Battle Trance Strong Dispels

25

-6s Whirling Axes Cooldown

18

+250 Health

10

+10 Agility

+90 Whirling Axes Damage

15

+3 Max Fervor Stacks

Battle Trance Strong Dispels

25

-6s Whirling Axes Cooldown

19

+250 Health

10

+10 Agility

+90 Whirling Axes Damage

15

+3 Max Fervor Stacks

Battle Trance Strong Dispels

25

-6s Whirling Axes Cooldown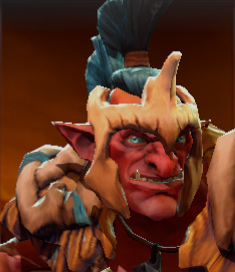 21
21
13
天赋树
+250 Health
10
+10 Agility
+90 Whirling Axes Damage
15
+3 Max Fervor Stacks
Battle Trance Strong Dispels
25
-6s Whirling Axes Cooldown
Berserker's Rage
While active, Troll Warlord swaps from using ranged to melee attacks. Melee attacks have a chance to ensnare, preventing the target from moving or using mobility spells. Berserker's Rage also grants additional movement speed, armor, and increased attack speed. Whirling Axes has different functionality while Berserker's Rage is active.
Like his anger, Troll Warlord's supply of axes is infinite.
BONUS MOVE SPEED:
10 20 30 40
BONUS ARMOR:
6
ENSNARE CHANCE:
10 12 14 16%
MELEE BASE ATTACK TIME:
1.45
ENSNARE DURATION:
0.8 1.2 1.6 2.0
ABILITY:
No Target,Toggle

tips: Manta Style's cooldown time will be based on whether Troll Warlord was in his ranged or melee form when the item was used.


Whirling Axes (Ranged)
Troll hurls a fistful of five axes in a cone shape over 900 range, slowing and damaging enemy units.
Only axes fueled by hate whirl with such a deadly spin.
MOVEMENT SLOW:
40%
AXE DAMAGE:
75
SLOW DURATION:
2.5 3 3.5 4
AFFECTS:
Enemy Units
ABILITY:
Unit Target,Point Target
DAMAGE TYPE:
Magical
PIERCES SPELL IMMUNITY:
No

50

9

Whirling Axes (Melee)
Troll hurls two axes around him in a close range area of effect, damaging enemy units and causing them to miss some attacks.
Keep your enemies close.
RADIUS:
450.0
DAMAGE:
75 125 175 225
MISS CHANCE:
60%
WHIRL DURATION:
3.0
BLIND DURATION:
5
ABILITY:
No Target
DAMAGE TYPE:
Magical
PIERCES SPELL IMMUNITY:
No

50

9

Fervor
With each continuous blow on the same target, Troll gains increased attack speed. If Troll changes targets, the stacks drop to zero.
If at first you don't succeed, strike, strike again.
MAX STACKS:
12
ATTACK SPEED PER STACK:
15 20 25 30
ABILITY:
Passive
Battle Trance
Troll unleashes a powerful battle trance, that forces you to continuously attack the closest enemy unit within 900 range, prioritizing heroes. Damage does not kill you during this mode. Grants you bonus lifesteal, attack speed and movement speed. Applies a Basic Dispel.
An adrenaline rush of pure hatred quickens your blades.
LIFESTEAL:
40 60 80%
ATTACK SPEED:
140 170 200
TRANCE DURATION:
6.5
MOVEMENT SPEED:
30 35 40%
ABILITY:
No Target

150

90
Troll Warlord's win rate and pick rate this week
本周总胜率: 49.99 %
Item's times used and win rate
More
| | | |
| --- | --- | --- |
| Phase Boots | 1,364,018 | 50.16% |
| Black King Bar | 931,017 | 55.85% |
| Sange and Yasha | 922,819 | 59.00% |
| Wraith Band | 803,368 | 41.17% |
| Morbid Mask | 609,710 | 43.65% |
| Vladmir's Offering | 519,742 | 53.52% |
| Shadow Blade | 379,142 | 46.05% |
| Battle Fury | 367,045 | 54.06% |
| Skull Basher | 359,097 | 61.96% |
Troll Warlord's Best Versus
More
| | | | |
| --- | --- | --- | --- |
| Meepo | 9.83% | 52.11% | 28697 |
| Ursa | 6.99% | 48.68% | 112307 |
| Legion Commander | 6.65% | 54.51% | 154467 |
| Anti-Mage | 6.04% | 54.74% | 110538 |
| Templar Assassin | 5.20% | 55.73% | 27178 |
Troll Warlord's Worst Versus
More
| | | | |
| --- | --- | --- | --- |
| Razor | -7.36% | 46.29% | 68893 |
| Pugna | -5.96% | 50.84% | 37277 |
| Outworld Devourer | -5.17% | 56.68% | 24150 |
| Tinker | -5.15% | 53.97% | 56511 |
| Windranger | -4.04% | 46.65% | 135963 |
Troll Warlord's Best Teammates
More
| | | | |
| --- | --- | --- | --- |
| Magnus | 5.89% | 49.27% | 39754 |
| Gyrocopter | 5.02% | 48.65% | 10362 |
| Axe | 3.45% | 50.06% | 80141 |
| Io | 3.05% | 46.66% | 14493 |
| Ember Spirit | 2.44% | 49.90% | 61836 |
Troll Warlord's Worst Teammates
More
| | | | |
| --- | --- | --- | --- |
| Lifestealer | -5.62% | 47.40% | 30183 |
| Juggernaut | -4.85% | 48.82% | 81523 |
| Ursa | -4.17% | 52.15% | 47628 |
| Anti-Mage | -3.65% | 46.53% | 45396 |
| Faceless Void | -3.36% | 45.70% | 41043 |