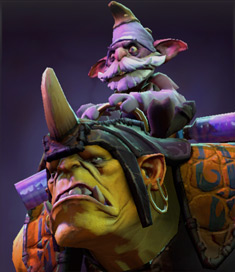 25
22
25
天赋树
-7s Unstable Concoction Cooldown
10
+25 Attack Speed
+400 Unstable Concoction Damage
20
+40% Cleave
+30 Chemical Rage Regeneration
25
-0.2 Chemical Rage Base Attack Time

Acid Spray
Sprays high-pressure acid across a target area. Enemy units who step across the contaminated terrain take damage per second and have their armor reduced.
Using traditional Alchemy from the Darkbrew family, Razzil concocts an acid that dissolves even the toughest metals.
DURATION:
16
DAMAGE PER SECOND:
15 20 25 30
RADIUS:
475 525 575 625
ARMOR REDUCTION:
4 5 6 7
ABILITY:
Point Target
DAMAGE TYPE:
Physical
PIERCES SPELL IMMUNITY:
No

130 140 150 160

22.0

Unstable Concoction
Alchemist brews up an unstable concoction that he can throw at an enemy hero, to stun and deal damage in an area around the explosion. The longer the concoction brews, the more damage it deals and the longer the stun. After 5 seconds, the brew reaches its maximum damage and stun time. However, after 5.5 seconds, the concoction will explode on Alchemist himself if not thrown.
A silver lining to the failure of turning a mountain into gold, this volatile solution has destructive potential.
MAX DAMAGE:
150 220 290 360
EXPLOSION RADIUS:
200
MAX STUN:
1.75 2.5 3.25 4.0
ABILITY:
No Target
DAMAGE TYPE:
Physical
PIERCES SPELL IMMUNITY:
No

120

22 20 18 16

tips: While brewing, this ability is replaced by Unstable Concoction Throw. Alchemist can move and act normally while brewing.
A timer above Alchemist's head will indicate the remaining brew time. This timer is visible to enemies.
You can deny yourself with this skill.
Unstable Concoction cannot be disjointed.
Once thrown, Unstable Concoction stops brewing.


Greevil's Greed
Alchemist synthesizes additional gold from his enemies and bounty runes. With each kill, Alchemist earns base bonus gold and extra bonus gold. If Alchemist kills another unit which yields gold within the next 40 seconds, an additional instance of Extra Bonus Gold is added to the total. Additionally, causes bounty runes to yield more gold.
While it is not a mountain, Razzil has mastered the conversion of smaller compounds to line his pockets.
BASE BONUS GOLD:
4
EXTRA BONUS GOLD:
4
RECENT KILL WINDOW:
40
MAX BONUS GOLD PER KILL:
20 24 28 32
BOUNTY RUNE MULTIPLIER:
2.0 2.5 3.0 3.5
ABILITY:
Passive

Chemical Rage
Alchemist causes his Ogre to enter a chemically induced rage, reducing base attack cooldown and increasing movement speed and regeneration. DISPEL TYPE: Basic Dispel
The brew Razzil gave to the Ogre during their prison bust has become a useful potion in the midst of combat.
BASE ATTACK TIME:
1.2 1.1 1.0
DURATION:
25.0
BONUS MANA REGEN:
4 10 16
BONUS MOVE SPEED:
40 50 60
BONUS HEALTH REGEN:
50 75 100
SCEPTER BONUS DAMAGE:
30
SCEPTER SPELL AMP:
6
ABILITY:
No Target
Upgradable by Aghanim's Scepter.
Alchemist melts down Aghanim's Scepter to grant an allied hero all Aghanim's Scepter upgrades. When you have a Scepter of your own, you will gain bonus damage and spell amplification for each gifted Scepter.

50 100 150

55.0

tips: Has a 0.35 second transformation time, which can be used to dodge projectiles and stuns.


Unstable Concoction Throw
Throw it before it blows up!
AFFECTS:
ABILITY:
Unit Target
PIERCES SPELL IMMUNITY:
No
Skills
All Skills
Tournament
Very High
High
Normal
Lobby Types
All
Ranked
Normal
Solo Match
| | | | |
| --- | --- | --- | --- |
| Sven | 1.27% | 49.60% | 61237 |
| Invoker | -3.40% | 47.97% | 142666 |
| Viper | -2.26% | 52.92% | 61715 |
| Timbersaw | 3.56% | 49.97% | 55167 |
| Storm Spirit | -5.63% | 45.84% | 49822 |
| Ember Spirit | -3.47% | 46.75% | 63315 |
| Vengeful Spirit | -0.35% | 53.43% | 43317 |
| Bloodseeker | -0.98% | 51.98% | 59713 |
| Chen | 2.01% | 51.47% | 7764 |
| Axe | 1.77% | 52.92% | 133821 |
| Tiny | 3.88% | 47.50% | 72586 |
| Monkey King | 2.39% | 51.23% | 100418 |
| Crystal Maiden | 0.29% | 53.76% | 147428 |
| Queen of Pain | -0.39% | 46.69% | 39917 |
| Earth Spirit | 3.57% | 46.24% | 23708 |
| Ogre Magi | 2.74% | 54.59% | 210324 |
| Witch Doctor | 0.96% | 51.10% | 95151 |
| Naga Siren | -4.72% | 51.87% | 21558 |
| Pugna | 0.98% | 48.50% | 31721 |
| Phantom Assassin | -1.27% | 50.85% | 129025 |
| Grimstroke | 3.95% | 49.98% | 88916 |
| Morphling | -3.93% | 43.04% | 37276 |
| Disruptor | 1.96% | 51.02% | 55731 |
| Bristleback | 1.22% | 51.38% | 110419 |
| Enigma | -0.43% | 51.21% | 32984 |
| Medusa | -5.04% | 44.26% | 20662 |
| Warlock | -1.14% | 54.73% | 85685 |
| Legion Commander | 0.42% | 50.89% | 142239 |
| Undying | -0.44% | 51.26% | 32420 |
| Tidehunter | 1.93% | 52.87% | 45549 |
| Sniper | -4.74% | 45.45% | 111916 |
| Ancient Apparition | -0.25% | 52.59% | 93554 |
| Rubick | 3.17% | 48.03% | 139556 |
| Gyrocopter | 3.51% | 50.63% | 29857 |
| Jakiro | 1.14% | 53.57% | 80058 |
| Faceless Void | -0.14% | 52.59% | 104734 |
| Lion | 1.82% | 50.86% | 305303 |
| Ursa | 5.05% | 54.70% | 64276 |
| Necrophos | -1.23% | 49.30% | 65499 |
| Techies | -1.09% | 49.27% | 80964 |
| Abaddon | 1.51% | 55.40% | 46027 |
| Skywrath Mage | -0.72% | 52.27% | 95647 |
| Tinker | -6.48% | 44.50% | 54478 |
| Luna | 0.68% | 52.97% | 52719 |
| Lifestealer | -2.55% | 50.05% | 71106 |
| Spectre | -4.88% | 52.47% | 41248 |
| Bane | 4.00% | 50.85% | 25520 |
| Outworld Devourer | -4.52% | 44.71% | 21381 |
| Anti-Mage | -3.36% | 48.08% | 75411 |
| Brewmaster | 1.86% | 51.12% | 12859 |
| Slardar | 3.98% | 52.51% | 81459 |
| Chaos Knight | 1.28% | 53.20% | 39018 |
| Slark | 2.24% | 52.22% | 157949 |
| Lich | 1.22% | 50.65% | 51163 |
| Tusk | 5.12% | 49.36% | 52435 |
| Clinkz | 0.20% | 54.80% | 53710 |
| Shadow Fiend | -5.07% | 45.34% | 56207 |
| Troll Warlord | 1.34% | 49.17% | 39002 |
| Drow Ranger | -6.67% | 48.05% | 72363 |
| Dragon Knight | -2.29% | 48.41% | 30941 |
| Silencer | 0.14% | 53.69% | 97600 |
| Mars | 2.07% | 50.25% | 66142 |
| Lone Druid | -5.29% | 40.81% | 8262 |
| Broodmother | -4.66% | 49.47% | 16852 |
| Doom | 1.52% | 48.41% | 38468 |
| Lina | 3.70% | 48.27% | 88473 |
| Elder Titan | 3.40% | 52.42% | 15607 |
| Phantom Lancer | -1.63% | 49.00% | 35984 |
| Visage | -2.75% | 53.32% | 6540 |
| Underlord | -0.98% | 55.77% | 36433 |
| Magnus | 5.37% | 48.73% | 28150 |
| Riki | 1.06% | 56.26% | 99935 |
| Omniknight | 3.86% | 55.30% | 31881 |
| Earthshaker | 0.84% | 51.22% | 199586 |
| Razor | 3.57% | 49.85% | 28051 |
| Beastmaster | 3.24% | 51.32% | 12839 |
| Terrorblade | -2.12% | 47.50% | 20390 |
| Night Stalker | 4.02% | 56.21% | 34209 |
| Death Prophet | -3.30% | 47.37% | 16380 |
| Pudge | -0.18% | 54.04% | 407141 |
| Dark Willow | 2.40% | 51.80% | 51457 |
| Venomancer | -0.84% | 50.45% | 52639 |
| Arc Warden | -6.83% | 46.05% | 16607 |
| Nyx Assassin | 2.24% | 50.22% | 35936 |
| Phoenix | 0.31% | 51.92% | 47520 |
| Meepo | -6.99% | 51.25% | 23618 |
| Huskar | -2.72% | 48.98% | 32888 |
| Io | -3.64% | 44.82% | 21333 |
| Centaur Warrunner | 2.70% | 51.22% | 38633 |
| Treant Protector | 2.59% | 53.03% | 37589 |
| Juggernaut | 0.61% | 50.67% | 177071 |
| Spirit Breaker | 3.06% | 52.40% | 103804 |
| Zeus | -4.59% | 53.87% | 95524 |
| Shadow Shaman | 2.10% | 52.98% | 136641 |
| Lycan | -2.55% | 48.44% | 9581 |
| Batrider | 5.86% | 47.17% | 16874 |
| Pangolier | 1.84% | 50.72% | 73450 |
| Bounty Hunter | 4.04% | 54.16% | 103964 |
| Templar Assassin | -1.42% | 45.86% | 18349 |
| Windranger | -0.87% | 53.29% | 215410 |
| Clockwerk | 1.31% | 53.58% | 37985 |
| Puck | 1.09% | 45.19% | 18978 |
| Oracle | 5.51% | 49.15% | 30710 |
| Enchantress | 3.92% | 54.40% | 56775 |
| Leshrac | 3.48% | 47.48% | 24697 |
| Keeper of the Light | 1.57% | 51.48% | 35735 |
| Wraith King | -5.37% | 52.07% | 97927 |
| Dark Seer | 0.20% | 50.47% | 14477 |
| Nature's Prophet | -2.16% | 44.40% | 50440 |
| Shadow Demon | 6.85% | 51.46% | 38632 |
| Mirana | 3.85% | 54.67% | 139228 |
| Weaver | 2.98% | 51.97% | 54721 |
| Sand King | 1.97% | 53.46% | 78649 |
| Dazzle | 0.00% | 52.91% | 98905 |
| Kunkka | -1.39% | 49.56% | 76488 |
| Winter Wyvern | 2.08% | 50.55% | 36296 |