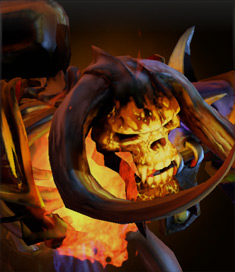 12
22
18
天赋树
+5 Armor
10
+12% Magic Resistance
+30 Searing Arrows Damage
15
+15 Strength
+16 Health Regen
20
+125 Attack Range
Searing Arrows Multishot
25
+3s Strafe Duration

Strafe
Clinkz nimbly attacks with a barrage of arrows. Dramatically increases attack speed for a short time and grants Clinkz the ability to automatically dodge projectiles.
It's hard to say whether the blur around the Bone Fletcher is from his flaming heart or his speed with the quiver.
BONUS ATTACK SPEED:
110 160 210 260
DURATION:
3.5
ABILITY:
No Target

75 80 85 90

30 25 20 15

tips: Can dodge ranged attacks or spells.

Searing Arrows
Imbues Clinkz's arrows with fire for extra damage.
Clinkz simply lights his arrows from his flaming essence for quite the destructive effect.
BONUS DAMAGE:
30 40 50 60
AFFECTS:
Enemy Units
ABILITY:
Unit Target,Auto-Cast
DAMAGE TYPE:
Physical
PIERCES SPELL IMMUNITY:
Yes

12

0.0 0.0 0.0 0.0

tips: Searing Arrows deal damage to structures.
The damage is directly added to Clinkz' attack damage, as physical damage.


Skeleton Walk
Clinkz moves invisibly through units until the moment he attacks or uses an ability.
With a burst of fire and puff of smoke, the Bone Fletcher was nowhere to be seen.
BONUS MOVEMENT SPEED:
15 25 35 45%
DURATION:
20.0 25.0 30.0 35.0
ABILITY:
No Target

75 75 75 75

20 19 18 17

tips: Will not break most channeling of spells or items upon activation.
Has a fadetime of 0.6 seconds.


Burning Army
Clinkz summons an army of fiery ranged skeleton archers. Archers are immobile and die with 2 attacks from a hero. Skeletons use your current Searing Arrows ability and attack only heroes. Base damage is equal to your hero's base damage. Attack range is equal to your hero's attack range.
DURATION:
20
COUNT:
4 5 6
RANGE:
1300
ATTACK RATE:
1.75 1.6 1.45
SPAWN INTERVAL:
0.8
ABILITY:
Point Target
DAMAGE TYPE:
Physical

125 175 225

110
Skills
All Skills
Tournament
Very High
High
Normal
Lobby Types
All
Ranked
Normal
Solo Match
| | | | |
| --- | --- | --- | --- |
| Chen | -0.28% | 57.98% | 2489 |
| Meepo | -11.84% | 43.05% | 14705 |
| Batrider | 3.87% | 56.44% | 8325 |
| Legion Commander | -5.45% | 49.63% | 71225 |
| Doom | 3.27% | 53.98% | 30528 |
| Earth Spirit | 1.42% | 57.11% | 10435 |
| Riki | -4.87% | 45.17% | 58816 |
| Invoker | 0.98% | 53.66% | 90681 |
| Timbersaw | -1.35% | 58.10% | 15531 |
| Night Stalker | -1.27% | 47.83% | 13227 |
| Pangolier | 5.35% | 55.43% | 34996 |
| Gyrocopter | 0.76% | 55.40% | 9811 |
| Mars | -2.37% | 47.74% | 69212 |
| Outworld Devourer | 3.85% | 63.45% | 10521 |
| Slark | -3.35% | 52.14% | 44114 |
| Lich | 2.98% | 54.65% | 24106 |
| Tinker | -3.55% | 56.18% | 27740 |
| Skywrath Mage | 1.12% | 50.36% | 42406 |
| Abaddon | -4.31% | 46.99% | 16470 |
| Winter Wyvern | 2.34% | 52.41% | 15845 |
| Faceless Void | 0.21% | 54.13% | 51891 |
| Crystal Maiden | -0.35% | 47.40% | 55342 |
| Lone Druid | -0.73% | 58.54% | 6157 |
| Sand King | 0.16% | 51.47% | 18281 |
| Enigma | 7.93% | 52.51% | 19058 |
| Bristleback | -4.95% | 50.15% | 48423 |
| Bloodseeker | -3.80% | 45.53% | 45557 |
| Ogre Magi | -1.22% | 49.65% | 52297 |
| Ember Spirit | 3.36% | 54.37% | 41075 |
| Monkey King | 3.18% | 53.56% | 64287 |
| Dark Willow | 3.55% | 53.16% | 19602 |
| Pudge | 0.23% | 50.38% | 177098 |
| Wraith King | -1.58% | 45.98% | 45461 |
| Naga Siren | -12.03% | 43.13% | 12498 |
| Witch Doctor | 4.09% | 53.55% | 40099 |
| Morphling | -4.12% | 51.70% | 39419 |
| Disruptor | 2.82% | 52.78% | 20676 |
| Leshrac | 2.05% | 54.86% | 11644 |
| Lion | 0.77% | 51.44% | 166599 |
| Alchemist | -1.58% | 50.18% | 32521 |
| Ursa | -0.77% | 46.52% | 43889 |
| Drow Ranger | -0.16% | 48.82% | 84105 |
| Dragon Knight | -2.87% | 51.18% | 21274 |
| Queen of Pain | 0.87% | 53.94% | 30330 |
| Puck | -0.41% | 58.67% | 12433 |
| Oracle | 2.09% | 54.27% | 17636 |
| Underlord | 6.33% | 50.48% | 13680 |
| Enchantress | -5.83% | 49.64% | 16274 |
| Shadow Shaman | 2.02% | 50.10% | 68649 |
| Lycan | -4.39% | 47.88% | 6959 |
| Grimstroke | 5.29% | 55.64% | 26792 |
| Phantom Assassin | -6.26% | 48.12% | 112835 |
| Broodmother | -7.27% | 51.60% | 5769 |
| Kunkka | 0.42% | 51.58% | 58266 |
| Bane | 0.84% | 53.17% | 11006 |
| Spectre | -2.15% | 47.07% | 30579 |
| Techies | -5.46% | 50.54% | 36392 |
| Necrophos | 2.01% | 46.17% | 56599 |
| Clockwerk | 3.19% | 51.81% | 14913 |
| Undying | 5.41% | 52.77% | 17356 |
| Tidehunter | 3.58% | 51.19% | 25014 |
| Sven | 1.75% | 52.05% | 34418 |
| Luna | -2.13% | 50.63% | 23328 |
| Mirana | -1.19% | 51.07% | 41219 |
| Shadow Demon | -0.22% | 53.27% | 9776 |
| Keeper of the Light | 1.38% | 54.51% | 14026 |
| Tusk | 0.38% | 55.56% | 21007 |
| Storm Spirit | -1.75% | 51.87% | 42891 |
| Treant Protector | -1.96% | 50.75% | 14285 |
| Lina | 0.47% | 56.78% | 35521 |
| Arc Warden | -2.79% | 50.40% | 9096 |
| Venomancer | 1.42% | 52.15% | 29357 |
| Omniknight | -6.06% | 46.86% | 10346 |
| Earthshaker | 1.57% | 52.47% | 55079 |
| Phoenix | 6.54% | 54.87% | 22694 |
| Warlock | 1.11% | 48.28% | 15813 |
| Dark Seer | 3.36% | 49.01% | 11040 |
| Ancient Apparition | 4.05% | 50.54% | 26901 |
| Brewmaster | 1.24% | 51.26% | 7296 |
| Anti-Mage | -1.26% | 52.35% | 58013 |
| Zeus | -2.80% | 48.63% | 47925 |
| Io | -1.74% | 55.04% | 8923 |
| Rubick | 2.57% | 57.03% | 48280 |
| Weaver | 1.24% | 55.90% | 28117 |
| Viper | 14.58% | 53.62% | 69110 |
| Silencer | 0.85% | 49.94% | 31771 |
| Bounty Hunter | -6.35% | 45.60% | 104260 |
| Beastmaster | 2.14% | 52.35% | 5440 |
| Terrorblade | -5.09% | 50.64% | 18551 |
| Medusa | 1.62% | 53.47% | 29956 |
| Vengeful Spirit | 0.91% | 48.91% | 24158 |
| Huskar | 5.54% | 58.21% | 26441 |
| Centaur Warrunner | 0.22% | 53.63% | 14474 |
| Shadow Fiend | -0.09% | 54.25% | 52268 |
| Troll Warlord | -3.56% | 49.56% | 35966 |
| Nyx Assassin | 3.33% | 51.91% | 23086 |
| Jakiro | 4.49% | 50.93% | 29636 |
| Axe | -2.52% | 51.59% | 48612 |
| Templar Assassin | 3.78% | 56.41% | 15370 |
| Tiny | -1.66% | 56.30% | 23176 |
| Razor | 3.99% | 53.41% | 32846 |
| Juggernaut | 0.94% | 50.48% | 117575 |
| Spirit Breaker | -2.40% | 50.73% | 37204 |
| Chaos Knight | -2.52% | 46.16% | 31096 |
| Slardar | -1.19% | 51.50% | 47547 |
| Visage | 4.87% | 53.60% | 3011 |
| Lifestealer | 3.56% | 52.91% | 40922 |
| Sniper | 1.52% | 54.14% | 111366 |
| Phantom Lancer | -8.53% | 51.13% | 26806 |
| Elder Titan | 3.98% | 53.42% | 5556 |
| Nature's Prophet | -4.12% | 52.76% | 45897 |
| Death Prophet | 3.15% | 56.91% | 8579 |
| Magnus | 1.10% | 55.38% | 17242 |
| Dazzle | 0.28% | 48.62% | 38391 |
| Pugna | -0.35% | 55.24% | 18663 |
| Windranger | -1.14% | 49.43% | 83089 |